You know why Aluminum Formwork is chosen by reputable contractors?
Surely you will think that because aluminum formwork is quick construction, high aesthetic.
Your answer is absolutely correct.
From my point of view, if only those few benefits are available, then the aluminum formwork is hard to achieve.
So where is "whole house"?
This article will help you clarify the problem. Specifically, I will bring information such as:
What is aluminum formwork? Born when? Production from?
How advantages and disadvantages?
Can it be combined with any other formwork?
What is the development situation in Vietnam?
The development trend of aluminum formwork no longer flourishing?
Sounds great right? We start.
What is Aluminum Formwork?
Aluminum formwork is a form of modular formwork. Produced from the main material of Aluminum Alloy. High strength, light, durable, non-sticking properties.
Aluminum samples are combined into a system for storing concrete during construction.
Components have many dimensions suitable for high-rise buildings and duplicate constructions. In order to promote the ability to reuse many times, contributing to optimizing costs.
When did Aluminum Formwork come into being?
This form of formwork was developed based on Euro Form, a Steel formwork created in the 1960s in the United States.
In the late 1970s, a Canadian engineer W.J Malone invented molds of Aluminum formwork instead of steel.
Separate aluminum models were first used to build affordable housing in developing countries.
New improvements have brought practical effects such as reducing labor costs, accelerating construction progress, ensuring construction quality.
Thanks to that, aluminum formwork has been poured into the "vision" of some formwork solutions providers in the world. They invest in serious research and put into mass production.
What Aluminum Alloy is used to produce aluminum formwork?
Aluminum Alloy is an alloy of aluminum with other elements (such as copper, tin, manganese, silicon, magnesium,…).
Aluminum alloy used in formwork has two popular lines of 6061 and 6063. Due to its high extrusion capacity and flexibility.
In which 6061 alloy is more appreciated by high durability, corrosion resistance and good welding properties.
Popular aluminum formwork in Vietnam is mainly produced from this type of alloy.
Advantages of Aluminum Formwork systems
Light, durable, and high flexibility are key to the superiority of Aluminum formwork systems.
Specifically, I will list it for you right below.
Pretty light & flexible
On average, 1 square meter of aluminum is only about 20-27 kg.
With modern production technology, aluminum panels minimize weight but still ensure load bearing capacity.
The components are linked together to create a full-force, solid and light weight system.
Flexible, easy-to-assemble capacity is the formidable competitive advantage of aluminum formwork.
When constructing, workers just install according to design drawings and geodesic positioning.
Accessories in the connection of aluminum components are also made according to the requirements of easy construction, ensuring bearing.
The bracing system is also designed quite simply, by the anti-single and bracing system. The ability to tweak is relatively easy.
The construction space is very airy and clean.
In addition, using aluminum formwork greatly reduces the time for workers to self-calculate, cut and repair like other forms of formwork.
The ability to lift floors quickly
The average construction time of a floor is significantly shortened, only 3-5 days.
The system is designed with 3 layers of the supports. After 24-48 hours, the aluminum system can be dismantled in the sequence of walls, beams, floors and retaining the supports system in the 2 following floors.
It can be said that the reduction of project progress is entirely in control.
According to the construction time survey by aluminum formwork, it can accelerate the project progress by more than 30%.
High reusability
Each set of aluminum can be used more than 100 times, about 2-3 works. Significant cost reduction for construction contractors.
Because when designed, the standard forms were checked carefully, improving the ability to reuse later.
So if well-maintained and properly dismantled, the damage rate is only about 5-10%. And gradually increase for the next reuse.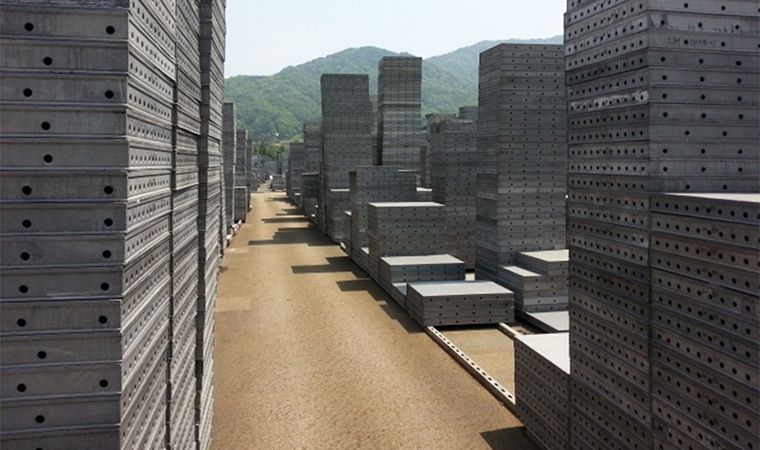 Another advantage of aluminum formwork is the ability of false the structure to be quite low, the concrete surface after aesthetic construction. Significantly reduce the cost of defecting the project.
Concrete surface uses aluminum formwork without plastering as for traditional formwork. Just sanding and spraying paint to finish.
However, aluminum formwork still has some limitations. Create a big barrier for small and medium contractors.
Let me explain it better to you!
Disadvantages of Aluminum Formwork system
The price of aluminum formwork is higher than other types, so the initial investment cost is not small.
Application scope is limited. For high-rise buildings, works with typical and duplicate designing.
Difficult to repair if design is wrong or change the designing methods.
Requires contractors with sufficient capacity for management, supervision and inventory management to make the most of the benefits of aluminum formwork.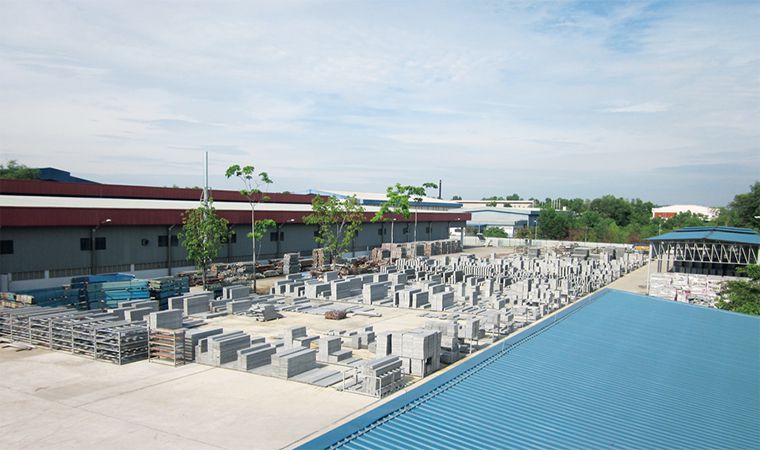 You will definitely agree with me:
… Thanks to the outstanding advantages on which aluminum formwork is commonly used in Vietnam …
But it turned out that much of that benefit could not create the result you think.
The bottom line, lies in the next content of this article.
The systems combined with Aluminum Formwork systems
The aluminum formwork itself alone has many outstanding advantages. But compared to the continuous development trend of construction technology, it also becomes obsolete if not improved.
Besides new advances in production techniques, meeting the architectural and construction difficulty quickly, ensuring structural accuracy.
The flexibility to combine with other forms of formwork is a smart step to get ahead of the "flow" of the market.
Here are some combinations that have created new success for aluminum formwork:
Formwork system climbing: Gang form
Using large steel plates in combination with the frame system to make the working desk, covering and shaping concrete surface of high-rise structural structures is the task of gang form.
Inside the opposite building with gang form is usually Euro form or Aluminum formwork. But the Aluminum formwork is more common.
The formwork system is made up of cast iron form and aluminum formwork has brought significant advantages:
Promoting all advantages of aluminum formwork: Execute quickly and accurately.
Gang form allows to completely remove the scaffolding system covered the building.
Speeding up construction progress, finishing.
Auto Climbing Systems (ACS)
There are many different names like climbing formwork, jumping formwork or sliding formwork. Here I collectively refer to Climbing Systems.
Climbing Systems are systems that replace the scaffold and boundary formwork or inside the core of a building.
The system is operated by hydraulic jack or tower crane. When using climbing systems can or do not use aluminum formwork for the boundary.
Gang form is also a climbing system.
Beam Drop Systems
It is a system that helps to replace and minimize the number of single supports. Created from bracing bars that support the aluminum floor formwork system.
Helping construction quickly, reducing noise and ensuring labor safety.
This technology is widely applied in Korea, Japan. However, it has not been applied in Vietnam due to specific characteristics such as floor height, floor span.
Couple: Aluminum formwork & Traditional formwork (plywood)
The using of aluminum formwork and traditional formwork in the same building may not be considered as "catching up" to the development trend. If not say, this combination is obsolete compared to the types mentioned above.
But considering from the perspective of "transforming yourself" from the traditional formwork to aluminum formwork, this is the perfect choice.
According to our survey, almost construction contractors are small or big, in the first phase when switching to aluminum, they always choose the solution of "slowly changing".
Specifically, they allow aluminum and wood to work together on a building.
It is also a way to practice adapting to changes and being consistent with management and financial capacity.
Adaptability to many different construction options is a big plus to help aluminum formwork continue to blend into the development trend.
So, how is this formwork "struggling" in Vietnam?
Situation of development of Aluminum Formwork in Vietnam
Entering our country since 2010 with the presence of Korean companies. Aluminum formwork gradually asserted its position. Become a reliable solution for high-rise buildings.
Capture the development trend of this form of formwork, a series of domestic and foreign companies also participated in the game since 2016.
The fierce competition among companies provides Aluminum Formwork
Can list some famous brands such as Kumkang, Sammok, Hyundai, Saki, BM Window, Seobo, SFK,…
Each company has its own strengths. If Korean companies are famous for aluminum alloy quality. Then Vietnamese companies have the advantage in product prices.
Some top construction companies such as Coteccons and Hoa Binh also built satellite companies. In order to optimize the amount of used formwork. At the same time, self-processing and production can be provided a closed scale.
To meet the construction needs in Vietnam as well as the "requirements" from the construction unit. Manufacturing companies are constantly improving from parameters, sizes to calculations, from accessories to drawings, construction materials of aluminum formwork.
And they even accept discounts and enhanced services.
The price of Aluminum Formwork is continuously lowered
Here I cannot list in detail for you the specific price that units are selling or leasing. This will violate business principles and create unnecessary misunderstandings.
Indeed, I don't have all the price information. But I can "reveal" you other information.
Those are the factors that make up the price of aluminum formwork:
Competition at a specific time
The degree of intimacy between units
Time of use and difficulty of construction
Standard and non-standard components
Price is calculated per square meter of aluminum formwork at the same time of use if rented
The cost of installation support, equipment and spare parts can be charged separately or collectively depending on the contract
When contracted, it may or may not include the accessory price
Accessories usually account for about 5-15% of the total value of aluminum formwork.
According to my survey:
Selling price of aluminum formwork ranges from 90-105 USD/m2.
Rent 30-50% of the selling price.
However, at the present time, the trend of buying new aluminum formwork is not as popular as in 2015 and earlier.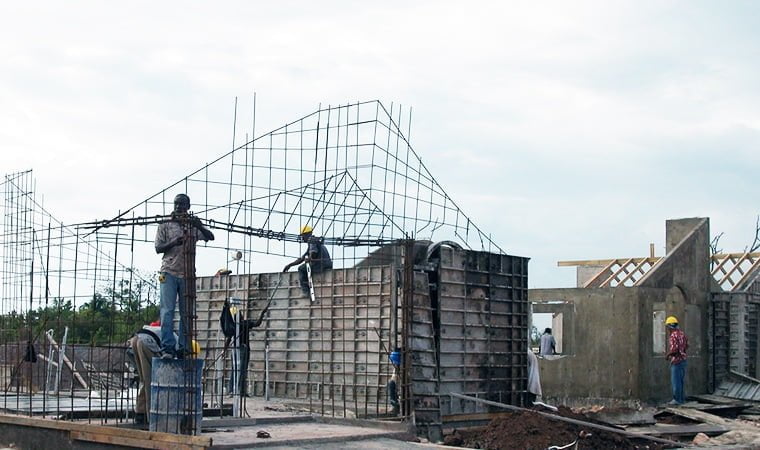 The reason why, I will explain immediately below.
The tendency to rent Aluminum Formwork increases
If buying new, contractors must return and maintain themselves. It is necessary to manage and supervise and generate warehousing expenses. Not to mention including the volume of damaged losses.
While renting, the price is much cheaper. You can continue to rent for the following project to reduce the unit price. Maintenance and logistics are all responsible of the suppliers.
Therefore, it can be affirmed that leasing is a new trend in Vietnam.
Construction of common high-rise buildings with Aluminum Formwork
If you have read through post 2019 Aluminum formwork solution I have introduced. Then you can easily see, more than 70% of high-rise buildings are now constructed by aluminum formwork and related forms.
Besides, the top construction companies such as Hoa Binh and Coteccons have used Aluminum formwork for both villas and adjacent houses.
Due to the level of competition to affirm the position among units. They always have to find the best construction method to increase their influence.
Maybe, at the present time, aluminum formwork is the number one solution to help them express their bravery.
Aluminum Formwork "rises" with Vincity
At the end of 2018, we witnessed Vincity starting. It is also when every "look" is focused on its construction method.
The towers turn up and are shaped by the couple: Aluminum formwork & Gang form.
Use almost entirely for the key project chain of the largest economic group in this country. Is the most eloquent evidence for the development trend and competitive advantages of aluminum formwork.
This prosperous period may continue for the next 1 to 2 years. How about it later, it's hard for anyone to know in advance.
Or do we try to predict the future of aluminum formwork in Vietnam market in the future.
Below is my point.
Does Aluminum Formwork continue to flourish in the future?
When the trend of this formwork grows "peaked", it sometimes has to stomp in "the middle" or even "hit the bottom". That is the law of nature.
So what are the causes of aluminum formwork at the middle and bottom?
There are several factors in my opinion:
Real estate market is saturated. Repeating cycle of real estate bubble.
Sanctions of the law on import and export, production of aluminum alloys.
The unhealthy competition between units.
The appearance of heavyweight opponents.
According to some information on the sidelines, the world's leading aluminum formwork companies are looking at the Vietnamese market. No one is strange, it is the "neighboring brothers": Chinese companies.
In their homeland, they are "in excess supply". Should find new territory to continue to survive. And they also claim that Vietnam is the "land of good birds".
We are no stranger to "Chinese men". They said they will do it but how, no one guessed.
Once they are determined to level the market of Vietnamese aluminum formwork, it is time to "bottom". "New peak" will be created a few years later.
At the same time, the development of modern construction measures in Western countries has affected us more or less. Integration and development is natural.
No one expected that within a decade, Aluminum formwork would be completely replaced by one of other forms: Table or flying form systems, Tunnel forms, Formwork Climbing, Flexible formwork, Cassette formwork, Plastic formwork.
Conclusion
With the sharing in this article, I hope to be able to chain back almost all knowledge of aluminum formwork. From basic concepts to information about the development situation.
I believe this summary is not only true in Vietnam but also in Korea, India, Malaysia, Thailand, China and many countries around the world.
Do you have any questions? Or do you have any other ideas?
Let me know by leaving a comment below. We will discuss it together.
If you like this article, don't forget to share it. Thanks very much!
***This is the English version of the Vietnamese article: Tổng quan về cốp pha nhôm